Services | Websites, Internet & Social Media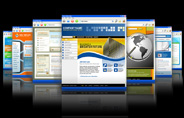 It's pretty standard these days that a business needs a website just to be taken seriously. One of the first things potential clients/customers do is search your business out on the web. The implication being, if you don't have a website, you must not be serious.

Beyond your website, there are a raft of social media sites that require attention now as well. The likes of Yelp, Google+, Facebook and Angie's List also scream for your attention, if not your advertising dollars.

Managing your way through this online jungle can be pretty daunting. That's where cairnedge consulting can help. We will work through a comprehensive view of what you should do online, given your customer base, and then we will tailor it to what you can do given the time, money and resources you can justify.
We'll explain the reasons behind our recommendations so you know the "why", not just the "how". The value you gain with cairnedge consulting is not focused on web hosting, design or setting up a Facebook page. We focus on how to make those tools work for your overall marketing goals.
With 20+ years of marketing and technology experience, we have the breadth and depth of knowledge to see how to leverage the technology to serve you, versus you becoming a slave to the technology.
How we keep it simple:
Hosting:

one account for all hosting

setup and manage your hosting account with a reputable hosting company
allows you to "own" your hosting so it cannot be taken hostage
host domain names, website and email in the same place
incredibly affordable and easy to add to

Templates:

makes the look and feel of your website easier and faster to choose

we use several website template design companies as the starting point

there is little value in paying for your site to be exclusive or unique
important part is the content and the message to the client (marketing)

Transparency:

you get copies of everything

we provide all account information (login/passwords) for all accounts created
copies of all documentation and written materials for the website or printed materials

Integrity:

we work on your behalf

We don't hold content hostage
We are not "yes" men
We will own it if our decision is wrong
and we will get you out of a bind if your decision is wrong