Services | Marketing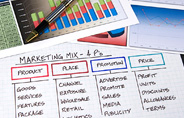 Marketing can be elusive to the small and medium sized business. It often gets pushed aside in favor of sales. Many small and medium business owners believe they cannot afford "marketing" from a high profile agency. That's true in most cases. Our position is that you don't need everything that large agency is pitching.
With 20 years of experience developing and marketing high technology products to individuals and businesses, the thing we've learned is that the simple message is the best message. We did learn a couple other things too, but that's the primary thing that we've brought to bear for our marketing service offering.
Your business is all about running your business. That simple reality gets lost many times on larger consulting groups. Our unique aptitude is to get into your business with you, learn the things that are important about your business to your customers/clients and then find a practical and cost effective way to get that message out.
We have clients ranging from a company with multi-million dollar annual revenues to one just starting out with no revenue at all. We have developed marketing materials and websites for financial companies, auto repair shops, real estate management concerns, dental practices, beaded jewelry partnership, an arborist and an energy broker. You know your business, we know marketing.
Some of the marketing services we offer:
Strategy and Planning:

business/marketing plans, product roadmaps/positioning, SWOT

Research:

market research, competitive, channel, product

Identity:

logo, letterhead, business cards, branding guidelines

Collateral:

brochures, catalogs, signs, promotional pieces, direct mail, coupons

Packaging:

labels, full package design

Editorial Calendar:

annual top list for social media, press releases

Advertising:

ad creation, managing of Google AdWords etc

Plans and Campaigns:

Marketing, Business, Promotional, Product

Messaging:

ad-hoc writing and editing for professional business communications
If you don't see exactly what you are looking for, don't hesitate to get in touch. Each industry is different, so we have had the opportunity to do some interesting and creative one-off projects for clients. Even simple "brainstorming" sessions leverage our experience on your behalf.
.