Services | Home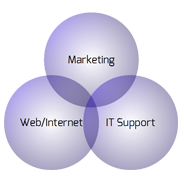 While it seems like a strange combination, it really does make sense. In virtually every small business, technology plays an increasingly important role in keeping your business running.
By combining Marketing and IT Support together, we bring a unique collection of services to small and medium sized businesses.
Our service approach allows for a one-stop-shop for branding, printed pieces like brochures and business cards, identity work like logos and packaging along with how that will all work on a website, Facebook or Yelp. At the same time we are a tight knit group so when we recommend a marketing idea, we have the talent available to implement any technology that goes along with it.
Business plans, strategy, marketing analysis, competitive analysis, marketing campaigns
Brand / Identity Development (logos, branding guidelines)
Business cards, brochures, catalogs, letterhead, direct mail, packaging
Website development, social media (Facebook, Yelp, Google+, Angie's List etc..)
Management of hosting (website, email, domain names etc..)
Onsite and remote support for MS Windows®, Apple Mac® PCs and Servers
Network design and deployment
Software and services recommendations and deployment
Software and App training and tutorials
Process improvement
By understanding how the technology enables the marketing and how the marketing can exploit the available technologies, we offer a wider and deeper service to small and medium sized businesses than can be done by the typical "fly-by-night" tech support guy, or the large and costly marketing or ad agency.
Take a look at the specific services pages to see what we offer that may help your business.